Energy sources optimization
REACH-2020-THEMEDRIVEN-CERTH_3.1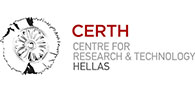 The Centre for Research and Technology Hellas (CERTH) is one of the largest research centres in Greece; top 1 in north Greece. Its mission is to promote the triplet Research – Development – Innovation by conducting high quality research and developing innovative products and services while building strong partnerships with industry and strategic collaborations with academia and other research and technology organisations in Greece and abroad.
More than 800 people work at CERTH with the majority being scientists. CERTH has received numerous awards and distinctions, while it is listed among the Top-20 of the EU's Research Centres with the highest participation in H2020 competitive research grants.
It is active in a large number of application sectors (energy, buildings and construction, health, manufacturing, robotics, (cyber)security, transport, smart cities, space, agri-food, marine and blue growth, water, etc.) and technology areas such as data and visual analytics, data mining, machine and deep learning, virtual and augmented reality, image processing, computer and cognitive vision, human computer interaction, IoT and communication technologies, navigation technologies, cloud and computing technologies, distributed ledger technologies (blockchain), (semantic) interoperability, system integration, mobile and web applications, hardware design and development, smart grid technologies and solutions and social media analysis.
Summary of the challenge

:
The goal of this challenge is to develop an engine able to optimize the use of energy sources, i.e. RES, storage, and load, of a building towards energy efficiency.
Stakeholder: Building managers, Building owners, Energy utilities – DATA ANALYSIS and DECISION MAKING
Description
A lot of smart building are equipped with RES (Renewable Energy Sources) like PVs as well as storage equipment (e.g. batteries). But, due to lack of legal policy and lack of smart systems to optimize their operation, they do not used in an efficient manner, while in majority of the cases, the energy produced is just sold to the energy utility.
Within this challenge, the aim is to design and develop a system that will be capable of optimizing the operation of the building as a micro-grid. Taking into account a variety of parameters, such as PV production, storage capacity, as well as building energy load, it should optimize the data chain value, by deciding when the energy produced should be stored or consumed or return it to the grid, when to consume energy directly from PV, from storage or from the grid, when to store energy (either from the grid or from the PVs), etc.
However, in a lot of cases, this information is sensitive, especially in cases where the data are sent to the cloud for processing. In this case, secure transactions and data exchange should be applied in all cases.
REACH Data Providers:
CERTH_energy

Building energy consumption (W)

Building energy consumption (kWh)

Energy production (W)

Energy production (kWh)

Energy Storage (kWh)

Storage DC (kWh)
To create a data value chain that allows:
20% RES optimization;

20% storage optimization;

20% energy savings;