Join REACH Incubator for Datathon!
On 19 and 20 May 2022, REACH Incubator will hold its first pitching event of its second incubation round – Datathon!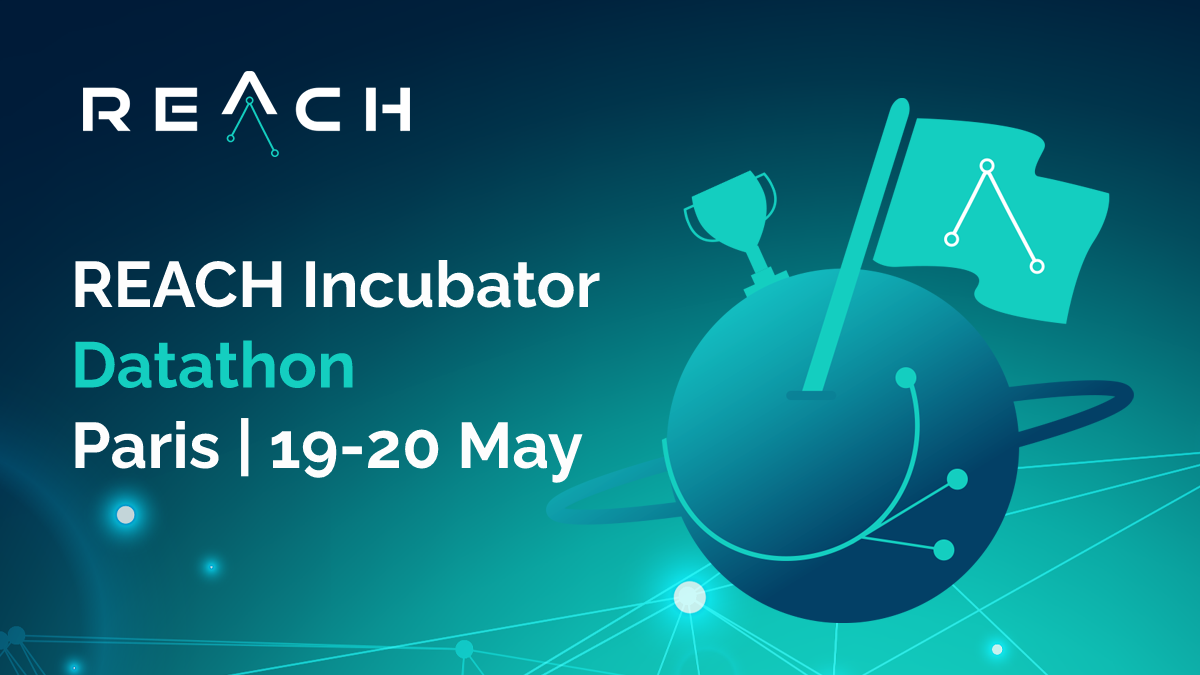 125 startups applied for the second REACH Open Call! Our expert evaluators selected the 32 brightest and most innovative ones to join the REACH community!
The 32 innovative startups, which joined the programme and are currently in EXPLORE Phase, had 2 months to work on further developing their idea.
On 19 and 20 May the startups will have the opportunity to travel to Paris for Datathon, where they will have the chance to showcase their technical and business pitches in front of a jury of experts.
This is a great opportunity for investors to get acquainted with the second round of REACH startups! REACH out to us via info@reach-incubator.eu if you would like to meet any of them.
The 10 winners will be announced on 20 May. The winning startups will then move on to the EXPERIMENT Phase, where they will have the opportunity to further develop their solutions, pilot them with their respective data providers and receive an additional 80K EUR in funding.
The event will physically take place at Centre D'Intégration Nano-Innov in Paris, but for the ones that won't be able to attend – the event will also be streamed!
Agenda (CET):
9:00 – Introductory remarks and welcome by CEA
9:05 – Algomo
9:10 – Aptus.IA
9:15 – Beedata
9:20 – Builtrix
9:25 – C4DChain
9:30 – Buffer – collection of jury evaluations
9:35 – ComSensus
9:40 – Crucial e Alternativo
9:45 – CubicFort
9:50 – CyStellar
9:55 – Dative.io
10:00 – Buffer – collection of jury evaluations
10:05 – EURIX srl
10:10 – FuVex
10:15 – B2METRIC
10:20 – Costifier
10:25 – Frizbit Technology, S.L.
10:30 – 10′ break
10:40 -SESTEK
10:45 -IN2
10:50 – ITER IDEA
10:55 – Konetik GmbH.
11:00 – LOADER
11:05 – Buffer – collection of jury evaluations
11:10 – MobyGIS
11:15 – Sensinov
11:20 – Shown
11:25 – Sixphere
11:30 – Smartocto
11:35 – Buffer – collection of jury evaluations
11:40 – Travel2Fit
11:45 – Urban Data Collective
11:50 – Virtualmech
11:55 – Vodéna
12:00 – Wiibiq
12:05 – Buffer – collection of jury evaluations
12:15 – Xylene GmbH
12:20 – Zentur.io GmbH
12:25 – 13:30 – Break
13:30-14:00 – Announcement of winners and closing of Datathon