REACH Highlights: A Recap of Our Presence at the European Big Data Value Forum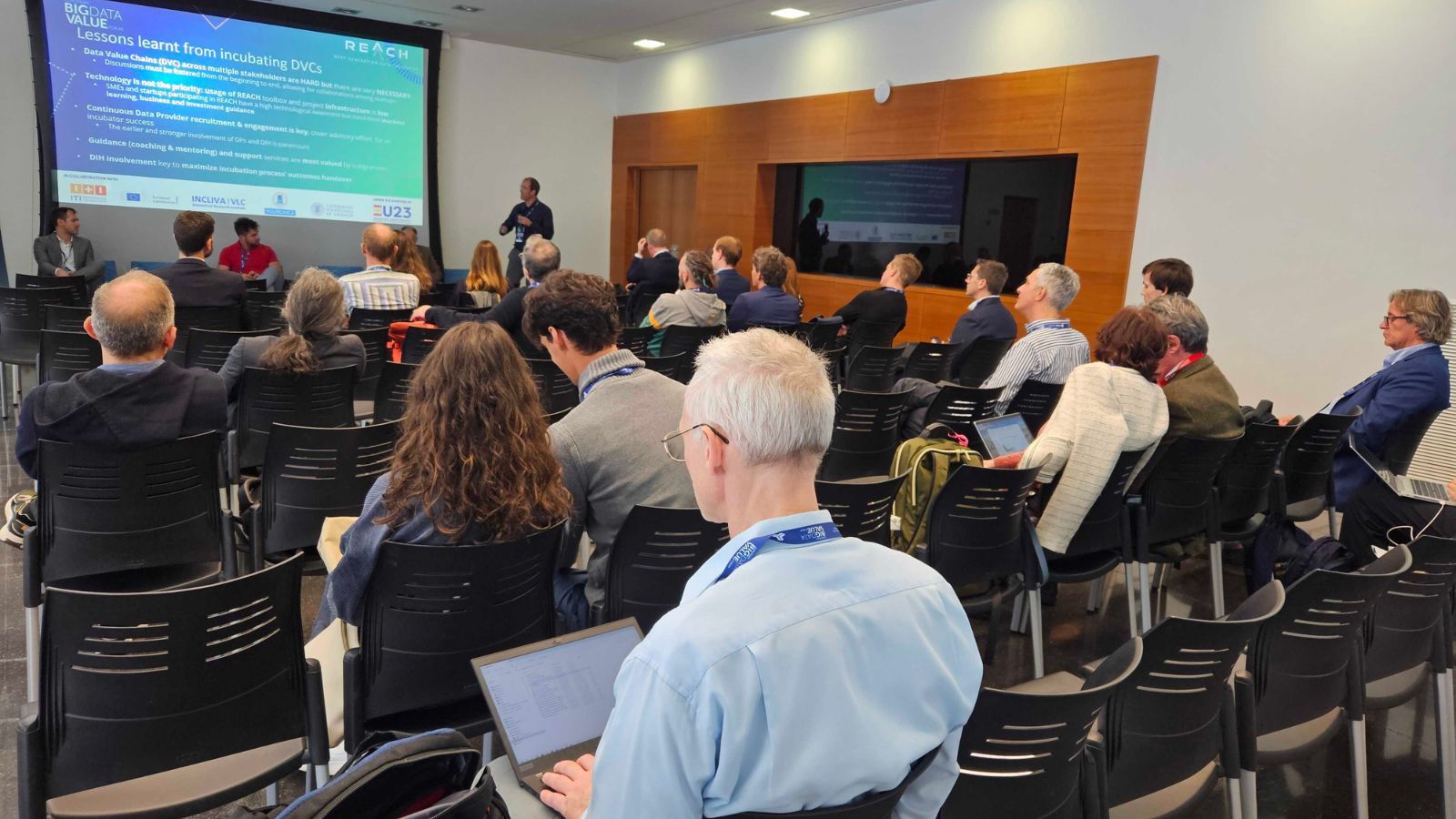 REACH Incubator consortium representatives and our beneficiaries from the 3rd incubation round were present at the European Big Data Value Forum 2023 (EBDVF) in Valencia last week, where we held an engaging session on the evolving landscape of data innovation from the perspective of REACH Incubator. 
The ambitious vision of the REACH project was presented and our efforts around open calls for innovative startups. We shed light on the diverse range of industries under the project's purview, emphasizing the project's expansive scope and its potential for transformative impact by leveraging the data value chain concept.
Diego López-de-Ipiña, representing the University of Deusto, shared valuable insights derived from incubating 103 Big Data startups. He delved deep into the dynamics of startup engagement, the investments funneled into these ventures, and the substantial impact they've been able to create. His experiences provided a blueprint for the successful nurturing of young businesses in the big data realm.
Further enriching the event's discourse, Vincenzo from IDEA75 shared captivating startup-corporate collaboration stories from the perspective of a Data Provider (established SME). To further enrich this narrative, Youbiquo has presented the startup perspective in nurturing data-centric solutions
The session culminated with an interactive segment led by Aleksandar Zobec from F6S. This segment zeroed in on the overarching trends, experiences, and insights emanating from the European Data Industry. The insights shared offered attendees a panoramic view of the future trajectory of the European data value chain space.
Beyond the confines of the scheduled presentations, the event facilitated enriching networking opportunities. A diverse array of data-oriented stakeholders converged, engaging in animated discussions centred on the direction of the European data value chain space. Of particular note was the exploration of exploitation paths for the REACH incubator, signalling the potential for pioneering collaborative efforts in the near future.
Finally, REACH team members have partaken in the EUHub4Data Stakeholder Working Group with EUHubs4Data, AI4Media and VRT, where future actions towards a more cohesive and engaging data ecosystem of Europe were discussed.
This EBDVF event has solidified its status as a hub for forward-thinking discourse on data innovation, with the promise of even more groundbreaking discussions in subsequent editions.