Deep learning methods for building energy disaggregation
REACH-2021-THEMEDRIVEN-CERTH_3.1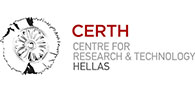 The Centre for Research and Technology Hellas (CERTH) is one of the largest research centres in Greece; top 1 in north Greece. Its mission is to promote the triplet Research – Development – Innovation by conducting high quality research and developing innovative products and services while building strong partnerships with industry and strategic collaborations with academia and other research and technology organisations in Greece and abroad.
More than 800 people work at CERTH with the majority being scientists. CERTH has received numerous awards and distinctions, while it is listed among the Top-20 of the EU's Research Centres with the highest participation in H2020 competitive research grants.
It is active in a large number of application sectors (energy, buildings and construction, health, manufacturing, robotics, (cyber)security, transport, smart cities, space, agri-food, marine and blue growth, water, etc.) and technology areas such as data and visual analytics, data mining, machine and deep learning, virtual and augmented reality, image processing, computer and cognitive vision, human computer interaction, IoT and communication technologies, navigation technologies, cloud and computing technologies, distributed ledger technologies (blockchain), (semantic) interoperability, system integration, mobile and web applications, hardware design and development, smart grid technologies and solutions and social media analysis.
Summary of the challenge

:
The goal of this challenge is to disaggregate the energy consumption of building from central load to individual device loads in an unobtrusive manner.
Stakeholder: Building managers, Building owners, Energy utilities – DATA ANALYSIS
Description:
One disadvantage of the smart buildings is the purchase and installation of many IoT devices and sensors that should be installed in the building. This cost in conjunction with the occupants' disruption during the installation do not allow them to buy and install them.
Thus, there is a huge necessity of extracting meaningful information without disturbing occupants. This can be achieved by exploiting only the energy consumption from the central panel. Using only this information, the algorithm should be able to disaggregate this information to the individual loads, for example how much energy consumed by fridge, oven, washing machines, etc.
The information exchange, in all cases, should be performed in a secured manner, so as to maintain the occupants' privacy.
REACH Data Providers

CERTH

External Data Provider:

Watt & Volt (WVT)

Open source datasets:
Data format:
Overall building energy consumption (W)

Overall building energy consumption (kWh)

Consumption (W and kWh) from specific devices (e.g. washing mashing, oven, etc.)
To create a data value chain that allows:
<15 Mean Absolute Error (MAE);

>80% Total Energy Correctly Assigned;