Respiratory Sound Recognition
REACH-2021-THEMEDRIVEN-CERTH_4.4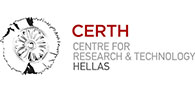 The Centre for Research and Technology Hellas (CERTH) is one of the largest research centres in Greece; top 1 in north Greece. Its mission is to promote the triplet Research – Development – Innovation by conducting high quality research and developing innovative products and services while building strong partnerships with industry and strategic collaborations with academia and other research and technology organisations in Greece and abroad.
More than 800 people work at CERTH with the majority being scientists. CERTH has received numerous awards and distinctions, while it is listed among the Top-20 of the EU's Research Centres with the highest participation in H2020 competitive research grants.
It is active in a large number of application sectors (energy, buildings and construction, health, manufacturing, robotics, (cyber)security, transport, smart cities, space, agri-food, marine and blue growth, water, etc.) and technology areas such as data and visual analytics, data mining, machine and deep learning, virtual and augmented reality, image processing, computer and cognitive vision, human computer interaction, IoT and communication technologies, navigation technologies, cloud and computing technologies, distributed ledger technologies (blockchain), (semantic) interoperability, system integration, mobile and web applications, hardware design and development, smart grid technologies and solutions and social media analysis.
Summary of the challenge

:
The goal of this challenge is to recognize the steps involved during the usage of an inhaler. In particular, the "inhale", "exhale", "button press" and "actuation" need to be classified via acoustic input signals.
Stakeholder: Stakeholders in Healthcare (e.g., doctors and patients suffering from asthma). Company internal stakeholders (employees) and in particular software engineers – DATA ANALYSIS
Description
Asthma and Chronic Obstructive Pulmonary Disease (COPD) are pulmonary diseases that have affected millions of people worldwide. Nowadays, it is estimated that 300 million people are suffering from asthma worldwide. Asthma is considered to be the most common non-contagious disease among children but is still a disease affecting adults during their lifetime and most of the deaths occur in older adults. Critical technique errors are very often performed by patients in the use of Dry Powder Inhalers (DPIs) resulting in a reduction of the clinical efficiency of such medication. Those critical errors include pure inhalation, non-arming of the device, no exhalation before or after inhalation, and non-holding of breath for 5–10 s between inhalation and exhalation. Therefore, there is a strong need for the development of algorithms that assess patient DPI user technique by extracting the non-silent audio segments and categorizing them into respiratory sounds.
When dealing with sensitive data, such as audio, one must consider the deployment of the computationally expensive algorithms to single-board computers. This would require optimization, keeping a fair trade-off between the computational cost and classification accuracy, as well as, storing the data on-device. In the case of a cloud-based system, one must assure that the Blockchain-as-a-Service is used.
To create a data value chain that allows:
To develop an accurate algorithm for recognizing the correct usage of an inhaler;

achieve an F1-Score higher than 95% of the four classes (actuation, button press, inhale and exhale).