Microgrid Energy Management
REACH-2022-THEMEDRIVEN-CERTH_4.2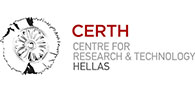 The Centre for Research and Technology Hellas (CERTH) is one of the largest research centres in Greece; top 1 in north Greece. Its mission is to promote the triplet Research – Development – Innovation by conducting high quality research and developing innovative products and services while building strong partnerships with industry and strategic collaborations with academia and other research and technology organisations in Greece and abroad.
More than 800 people work at CERTH with the majority being scientists. CERTH has received numerous awards and distinctions, while it is listed among the Top-20 of the EU's Research Centres with the highest participation in H2020 competitive research grants.
It is active in a large number of application sectors (energy, buildings and construction, health, manufacturing, robotics, (cyber)security, transport, smart cities, space, agri-food, marine and blue growth, water, etc.) and technology areas such as data and visual analytics, data mining, machine and deep learning, virtual and augmented reality, image processing, computer and cognitive vision, human computer interaction, IoT and communication technologies, navigation technologies, cloud and computing technologies, distributed ledger technologies (blockchain), (semantic) interoperability, system integration, mobile and web applications, hardware design and development, smart grid technologies and solutions and social media analysis.
Summary of the challenge

:
Develop a holistic optimized energy management system (EMS) with real-time monitoring and control capabilities for residential small-scale microgrids. The EMS must be able to accommodate the incorporation of heterogeneous building assets (incl. renewable sources, electric/ thermal storage, EVs, controllable electrical and thermal loads), while the optimal asset scheduling should be configurable to the needs of each user, e.g., minimization of operating costs, maximization of reliability, etc.
Stakeholders:  Microgrid owners, Distributed System Operators (DSOs), energy retailers, aggregators, and prosumers.
Description: 
The energy sector is the source of around 75% of greenhouse gas emissions today and holds the key to averting the worst effects of climate change. This calls for nothing less than a complete transformation of how we produce, transport, and consume energy. The demand side and more specifically buildings should be able to integrate heterogeneous energy sources along with energy storage, electric vehicles, and controllable loads in one self-sustainable energy system. However, this introduces several challenges in terms of optimal planning, monitoring, and control of all available assets. Despite the intense research interest, the commercialization of such solutions is limited because they usually demand complex hardware customizations, or they are designed for very specific applications narrowing down replicability and scalability.
This challenge demands the development of a solution that aims to optimize the operation of distributed energy technologies, using state-of-the-art algorithms and through the incorporation of standardized protocols. Forecasting algorithms are designed utilizing a hybrid technique combining analytical modeling with an Al-based data-driven approach. The users must be able to choose between several modes of operation such as maximization of financial profit, maximization of resilience for the uninterrupted power supply, or maximization of occupants' comfort respecting their preferences. 
The information exchange, in all cases, should be performed in a secure manner, so as to maintain the occupants' privacy. For this reason, CERTH's "Audit Messages Storage Platform", from the REACH toolbox, could be used to store the sensitive data of the heterogeneous building assets along with the resulting modes of operation that each user chose. This data would be shared only between trusted parties and under specific permissions.
Overall building energy consumption (kWh)
PV power generation (kW)
Battery SoC (%)
System Marginal Price (SMP) (€)
Both of the following should be addressed:
Asset setpoints are to be dispatched for the day ahead with either a 15-minute or hourly granularity and they must be followed 

User comfort settings (e.g. desired indoor temperature) must be added within the constraints of equivalent mathematical models for HVAC, A/C, etc. units linking electrical consumption with the temperature setpoint