RES forecasting
REACH-2022-THEMEDRIVEN-CERTH_4.1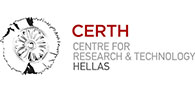 The Centre for Research and Technology Hellas (CERTH) is one of the largest research centres in Greece; top 1 in north Greece. Its mission is to promote the triplet Research – Development – Innovation by conducting high quality research and developing innovative products and services while building strong partnerships with industry and strategic collaborations with academia and other research and technology organisations in Greece and abroad.
More than 800 people work at CERTH with the majority being scientists. CERTH has received numerous awards and distinctions, while it is listed among the Top-20 of the EU's Research Centres with the highest participation in H2020 competitive research grants.
It is active in a large number of application sectors (energy, buildings and construction, health, manufacturing, robotics, (cyber)security, transport, smart cities, space, agri-food, marine and blue growth, water, etc.) and technology areas such as data and visual analytics, data mining, machine and deep learning, virtual and augmented reality, image processing, computer and cognitive vision, human computer interaction, IoT and communication technologies, navigation technologies, cloud and computing technologies, distributed ledger technologies (blockchain), (semantic) interoperability, system integration, mobile and web applications, hardware design and development, smart grid technologies and solutions and social media analysis.
Summary of the challenge

:
RES forecasting is an essential tool in modern Energy Management Systems (EMS). It is imperative to create a holistic size and equipment-agnostic RES forecasting framework so that energy production from solar, wind, etc. can be accurately forecasted both in short-term and day-ahead horizons.
Stakeholders:  Distributed System Operators (DSOs), Transmission System Operators (TSOs), energy retailers, aggregators, Balancing Responsible Partners (BRPs), and prosumers.
Description: 
The need for accurate forecast of the available energy generation units is an essential part of the transition toward the implementation of Smart Grid 2.0 services. As the share of renewables is increasing in the energy mix, the unit commitment problem is becoming increasingly complex. An accurate forecast of energy generation from renewables on multiple time horizons is crucial for the optimal utilization of the available power generation units. Data completeness and correctness is the primary requirement that is necessary for the deployment of the appropriate machine learning models. Sufficient data ensure proper model training. The existence of missing and/ or outlier values should be handled accordingly with data pre-processing techniques. The incorporation of weather data into the predictive model is also of utmost importance since in most cases the power generation of renewables is primarily depended upon weather conditions (cloud coverage, wind, temperature, etc.)
10kW PV power generation (kW)
Forecasted weather data – Cloud coverage (%)
Forecasted weather data – Temperature (°C)
At least one of the following should be addressed:
Day-ahead forecasts with MAPE below 20% (15-minute sampling)

Short-term forecasts with MAPE below 10% (15-minute sampling)