AssetFloow has revolutionised the retail industry by offering a unique  solution that describes shoppers' movements and interactions with products  inside a store. Unlike other solutions that rely on cameras or sensors,  AssetFloow utilizes a proprietary Behavioural Artificial Intelligence model  that leverages only the sales data and store planograms. The company has  worked with major retailers and CPG brands in Europe and South America,  to understand shopper behaviour, plan promotions, detect sales anomalies,  and optimize assortment, resulting in increased sales in less than 30 days.  
Each store presents a unique set of challenges when it comes to predicting  shopper behaviour, and AssetFloow's models are designed to uncover  these patterns. The company is excited to take on the challenge of  "Demand prediction" for Migros, where AssetFloow will apply their  Behavioral Models to forecast demands for each product at an individual  store level. Currently, forecast models rely heavily on seasonal patterns and  external factors such as weather and events. However, with AssetFloow, a  new layer of analysis will be added to increase the accuracy of the forecast  to 94% (vs 76% of state-of-art). By leveraging how shoppers behave inside  the store, AssetFloow will provide Migros with Forecast models followed by  the reason behind the increase/decrease in demands, with  recommendations that will drive sales growth and improve their inventory  management.
Usage of Standards for data interoperability:
The data that we will work don't have personal information, AssetFloow  leverages anonymous transactions. Nevertheless, the following procedure  will be done: 
– Encryption: Using encryption tools like PGP (Pretty Good Privacy) or GPG  (GNU Privacy Guard) to encrypt sensitive data. 
– Access Control: Implementing role-based access control (RBAC) to limit  access to data and systems based on user roles and permissions. 
– Audit Trails: Maintaining audit trails to track and monitor user activity  within the system and detect any suspicious activity. 
– Digital Signatures: Using digital signatures to authenticate the identity of  users and ensure data integrity and non-repudiation, with the work email  of the user.  
– Data Governance: Establishing data governance policies and procedures  to ensure the accuracy, completeness, and consistency of data.  
– APIs: Using Application Programming Interfaces (APIs) to facilitate  communication and interoperability between different systems and  applications. 
– Data Formats: Standardizing data formats to ensure compatibility and  interoperability between different systems and applications.  
– Metadata: Implementing metadata standards to ensure consistent and  meaningful information about the data is captured and shared.





*Expose phase is open to all Experiment phase teams
https://www.assetfloow.com/
Scaling in products or markets
Collaboration opportunity:
Distribution, Product testing and revision, Investment
AssetFloow, a Portuguese company that began its operations in March 2021,  aims to tackle this challenge by creating an Artificial Intelligence General Model  that describes Human Behaviour. The company won first place in an AI  Hackathon among 200 teams, after which it started working with 2 of top 5  retailers in Europe. AssetFloow helps retailers simulate changes in store layout  in seconds, optimizing decision-making time by 90%. They also help retailers  understand shopper behaviour, generating accurate heatmaps in describing  shopper paths and interactions with products. By identifying sales anomalies  and providing timely suggestions, the company helped retailers increase sales  in less than 30 days.  
AssetFloow's success has attracted investors, and they raised €100k as a  convertible note in 2021. Andrés Osto, former CEO of Les Mosquetaires and  Leroy Merlin, joined their board on the same year. The company was awarded  The Most Promising Startup in Portugal by Entrepreneurship Awards in 2022,  and in 2023, we closed a €1.5M seed round. By combining cutting-edge  technology with a deep understanding of human behavior, with a team of 10  people, AssetFloow is revolutionizing the retail industry and helping retailers  make better decisions that ultimately benefit their bottom line.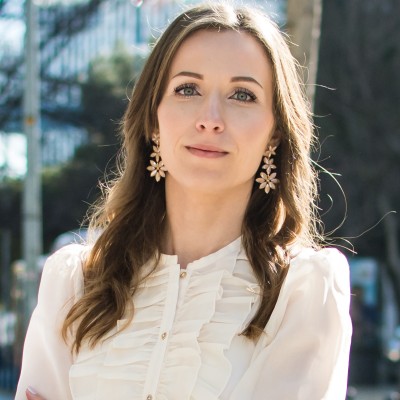 Katya Ivanova - CEO
Katya Ivanova: CEO with more than 10 years experience in innovation  consulting, management and strategy with real estate and retail corporates in  Europe and Macao.