Explore, Experiment, Evolve
DEEP LEARNING METHODS FOR BUILDING ENERGY DISAGGREGATION
The success of every energy improvement needs regular benchmarking and assessment of energy performance. Say goodbye to spreadsheets, paperwork, and inefficiencies. With Builtrix, all of your energy data is unified, easily-collected and organized in a way to save your time and help you to uncover non-obvious energy saving opportunities in your buildings.
1)Data Type: Electricity, Gas, Heating & Cooling, Indoor climate, Weather, Solar panel production, and Business data; with Builtrix data ingestion solution, all of your buildings' consumption and production data are easily-collected, unified and organized.
2) Data Source: Either you have a smart meter, sub-metering system, other sensors or building management solution; our data pipeline can automatically collect your data.
3) insight & recommandation: We developed proprietary algorithms that understand your energy data and designed to automatically find inefficiencies, abnormalities, and energy-saving opportunities in your building portfolio. Our Machine Learning algorithms dynamically learns your building's energy consumption behaviour and provide actionable insights & recommendations to save your time and cost
4) Security: We use enterprise-grade security systems and policies that ensure your data is secure and safe.
5) Privacy: Privacy is at the heart of Builtrix's solution. Our solution is complying with EU and regional data privacy regulation ensuring that sensitive & personal data are properly collected, stored, and documented.
Usage of Standards for data interoperability:

Semantic adapter component performs data transformation to semantic data from non-semantic data. In DeepEnD architecture, the semantic adapter would be connected to data connectors to receive non semantic data, would do the data transformation to semantic data and pass on transformed semantic data to upstream components.
A set of standard data models are adopted in DeepEnD, containing terms to use in the representation of data. The adoption of shared data models has relevance to the ontology of our Data Providers giving the possibility to reuse the DeepEnD project outcomes in other use cases, with few technical activities.
The DeepEnD common data models make use of several standard ontologies such as SAREF and SEAS. Also, thinking on future project exploitation, in the future, the DeepEnD data model will likely need to be extended/modified and new data models might be incorporated.





*Expose phase is open to all Experiment phase teams
Energy | Manufacturing / Industry | Retail
Scaling in products or markets
Collaboration opportunity:
Builtrix is a fast-growing provider of data-driven energy intelligence solution for energy experts, consultants and facility managers. Builtrix has a cloud-based solution that combines big data analytics and artificial intelligence with energy efficiency. Its' SaaS solution enables facility and property managers, energy services providers and consultants to understand the energy consumption, analyze usage patterns as well as inefficiencies, and detect anomalies in real time. It supports companies to optimize the energy efficiency of their buildings and to reduce carbon emissions.
Involvement in Standardisation Bodies:

Builtrix is a Member of Digital SME- Focus group: Smart Communities; Bringing together European digital SMEs and Public Authorities to create a collaborative and flourishing open innovation ecosystem.
The aim of this group is to create a framework where local SMEs can develop and deploy their trustworthy digital services made in Europe for their communities and beyond, enhancing social value and boosting inclusive growth by attracting high skilled talents and creating jobs.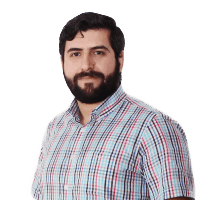 Javad Hatami - Co-Founder and CEO
Co-Founder and CEO of Builtrix. Javad is the DeepEnD project coordinator. A product leader experienced in data, energy, and sustainability.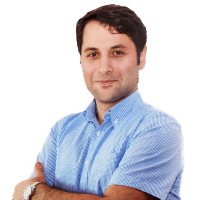 Mojtaba Kamarlouei - Co-founder and CTO
Co-founder and CTO of Builtrix. Mojtaba is the lead product developer of the DeepEnD project. More than six years of software development experience and worked as the lead developer of different data-driven innovations in national and EU projects