These are the 32 brightest startups & SMEs selected for REACH
The results are out! Get ready to be amazed by the 32 startups & SMEs selected to join REACH first incubation round. We are thrilled to share with you some interesting statistics about them and, of course, the big revelation: who are they?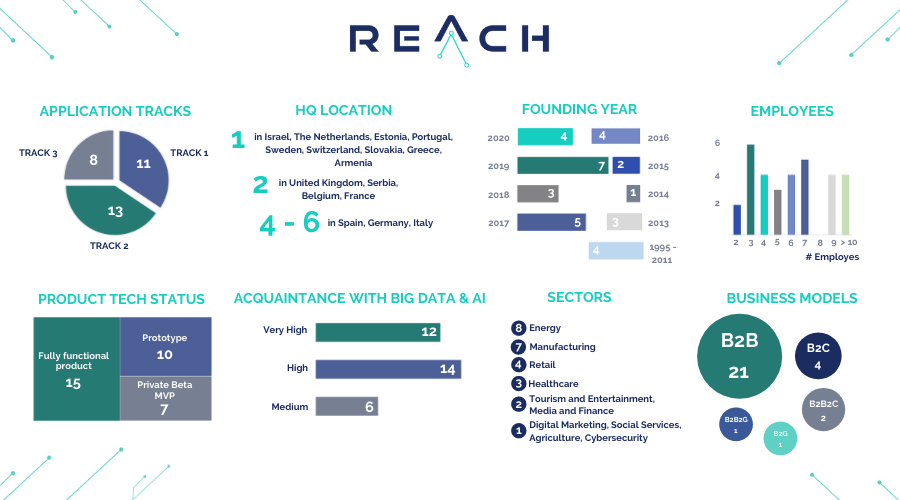 We now know who are the 32 brightest startups and SMEs entering REACH Incubator for EXPLORE phase. But getting here wasn't an easy task, trust us. After all, Open Call 1 received a total of 184 applications for solving real big data challenges! So, let's start by revealing precisely that: the more popular challenges and tracks.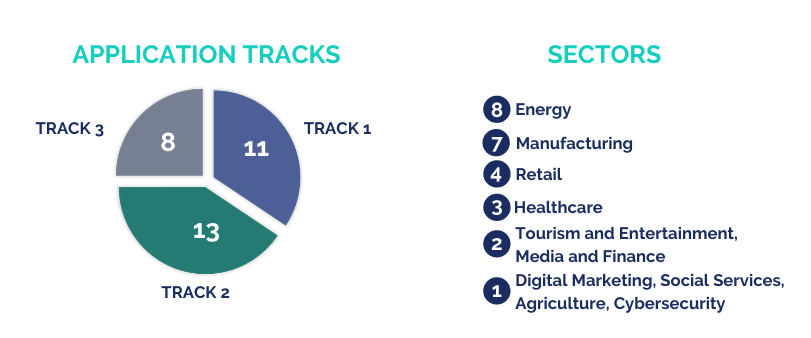 Applicants had the chance to apply for solving a Theme-driven challenge (Track 1), a Ready-made challenge (Track 2), or a Free-choice challenge (Track 3). Looking at the 32 selected applications, we can see that 13 (41%) are teams choosing to tackle a Ready-made challenge, 11 (34%) teams a Theme-driven and 8 (25%) teams are solving Free-choice challenges.
The more popular challenge in Track 1 was Energy Sources Optimization, identifyed in the Energy sector. Five of the selected teams (45% of Track 1 applications) have applied to solve it. When it comes to Track 2, the more popular challenges received 2 applications each (18%+18% of Track 2 applications):
Looking at the 3 Tracks globally, the Energy sector is the one with more challenges being tackled, with a total of 8 (25%) applications selected. It is closely followed by the Manufacturing / Industry sector, with 7 (22%) applications.
The selected companies' characterization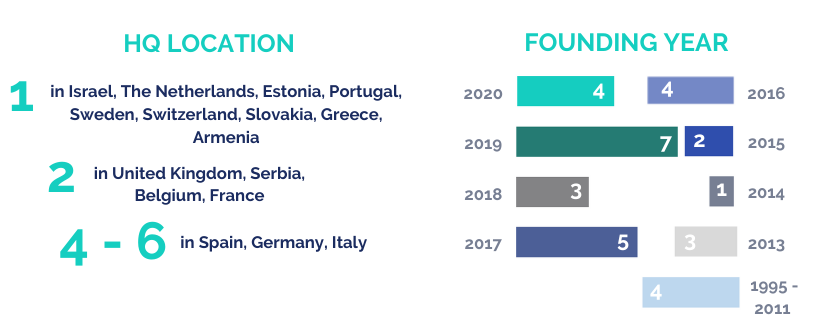 "But who are the selected startups & SMEs?" – you're probably asking by now. Hang in there just a little bit more, we still have some other interesting facts to share with you.
Almost half (47%) of the selected teams are based in three countries: Spain (6 teams), Germany (5) and Italy (4). But a total of 16 countries are here represented by the 32 startups & SMEs selected for this first round. This is a nice confirmation of REACH Incubator's efforts towards geographic diversity, spreading the word about the programme among the Horizon2020 eligible countries.
Another interesting fact is that 23 (72%) of these companies were born in the last 5 years: 4 (13%) in 2020; 7 (22%) in 2019; 3 (9%) in 2018; 5 (16%) in 2017; 4 (13%) in 2016. Looks like we may have here lots of young ideas flourishing into amazing new products.

We all know that people are the real engines behind the success of a company. So let's take a look at the teams' members.
In terms of team size, almost half of the selected teams (15) have up to 5 members: 2 (6%) teams with 2 employees; 6 (19%) teams with 3 employees; 4 (13%) teams with 4 employees; and 3 (9%) teams with 5 employees.
But having small and young companies aboard doesn't mean that we have here a lack of knowledge. It's actually the opposite. An impressive percentage of 81% of the teams have a high (14 teams) or very hight (12) level of acquaintance with Big Data & Artificial Intelligence.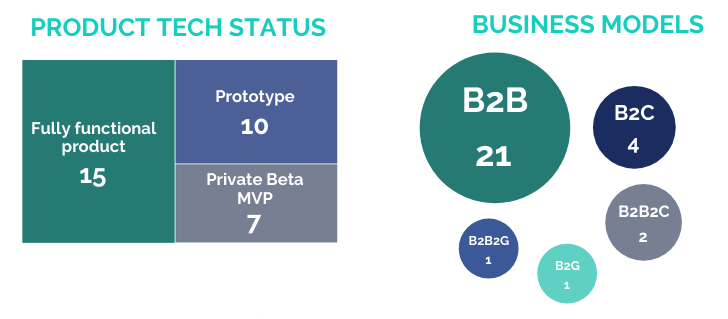 And what about their products?
When it comes to their maturity level, 15 (47%) of these teams have a fully functional product. The remaining 17 are working hard towards this same goal: 10 (31%) are already in prototype phase and 7 (22%) have a private beta MVP (Minimum Viable Product).
Finally, looking at their business models: among the 29 startups/SMEs that detailed us this information, we can see that the most popular one is the B2B (Business to Business), for 21 companies (66% of the selected ones). B2C (13%), B2B2C (6%), B2G (3%) and B2B2G (3%) follow behind.
And the winners are….
But let's jump to the big revelation! The 32 startups & SMEs that enter EXPLORE phase are:
During a 2-months period, these bright 32 startups & SMEs will work on their idea validation. The teams will then have the opportunity to pitch at an event taking place by the end of the EXPOSE phase and show why they deserve to be selected for the second phase: EXPERIMENT. Only the top projects will move on.
Stay tuned to know more information about the promising ideas that these teams have for solving big data challenges. Follow their journey through REACH Social Media channels: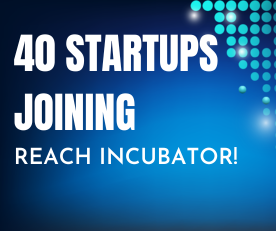 On 3 April, REACH Incubator launched its final incubation round, welcoming the last batch of Big Data startups to join the programme!